Welcome Back - Falcon Families! Please take time to read and review our 2021-2022 Student Code of Conduct. It is available in English & Spanish via the links provided and in our document section of our website. We are excited to see you!!! English
https://5il.co/x8qx
Spanish
https://5il.co/x8qz

Hello Falcon Families! Please submit any questions you may have about the upcoming school year, via the link below. This will help us prepare and address any questions that you have during Meet the Teacher. We can't wait to see you! 💙💛 Love, Ms. Trdla, Principal ¡Hola Falcon familias! Envíe cualquier pregunta que pueda tener sobre el próximo año escolar, a través del enlace de abajo. Esto nos ayudará a prepararnos y abordar cualquier pregunta que tenga durante Meet the Teacher. ¡Estamos ansiosos por verte! 💙💛 Con amor, Ms. Trdla, Directora
https://forms.gle/sXeZqk4rnJ8qjCTq8

Hello Falcons! Play, Learn, & Grow this summer with these amazing apps! Prizes will be awarded- see flyers for more information. #FieldsInspires #SummerLearning #SummerFun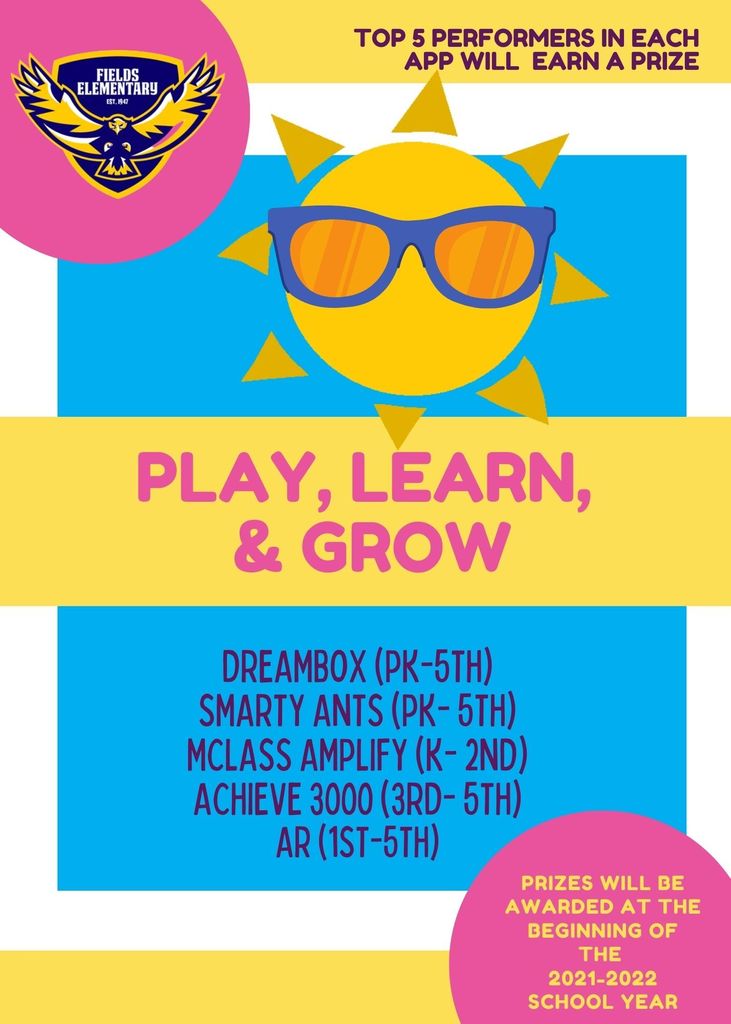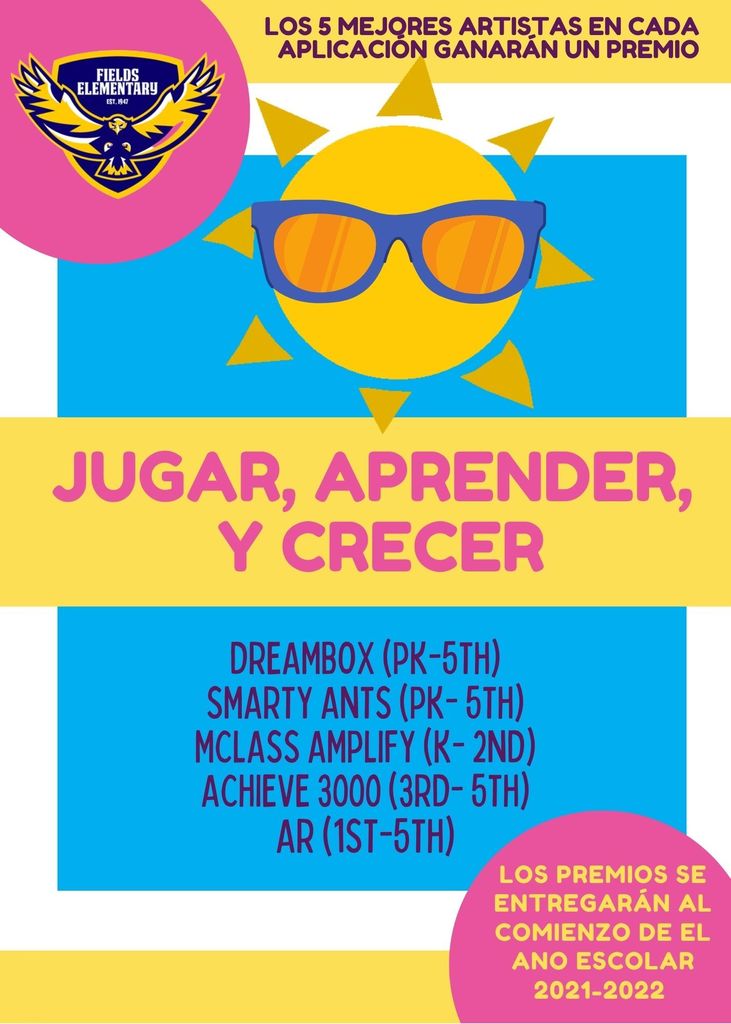 Un mensaje de la Directora, Ms. Trdla: ¡Hola familias! Esperamos que te esté yendo bien. Quería enviar un mensaje rápido para compartir con todos que el enlace PEBT abrió hoy. Aquí hay algunas respuestas a las preguntas que he recibido: Cualquier persona que tenga un hijo en McAllen ISD puede calificar para recibir estos fondos. Si ya recibe SNAP, no tiene que presentar una solicitud. Si no recibe SNAP con regularidad, incluso si presentó la solicitud el año pasado, debe solicitar nuevamente. Aproveche esta gran oportunidad. Utilice el enlace para comenzar su aplicación
https://yourtexasbenefits.com/Learn/PEBT
. Si necesita ayuda, llame a la escuela al (956) 971-4344, estaremos encantados de ayudarle. ¡Mantente a salvo, te amamos! -Ms. T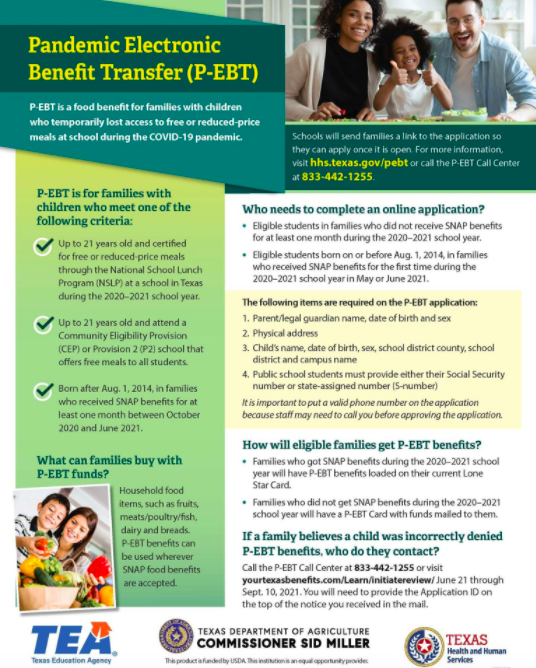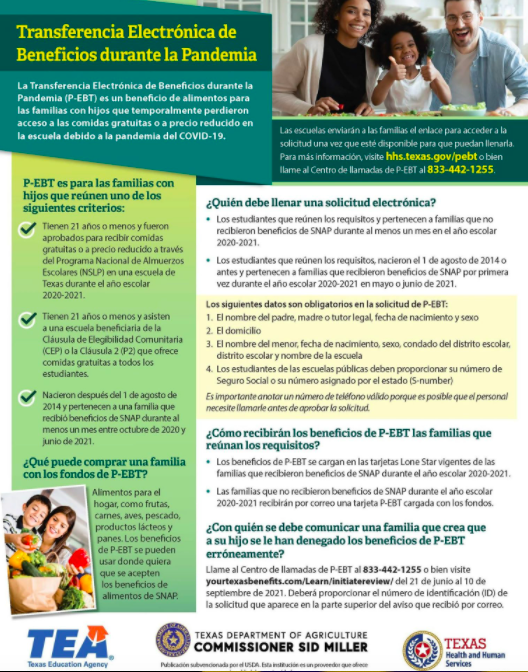 A Message From Your Principal, Ms. Trdla: Hello Families! We hope you are doing well. I wanted to send a quick message to share with everyone that the PEBT link opened today. Here are some answers to questions I have received: Anyone who has a child in McAllen ISD is able to qualify to receive these funds. If you already receive SNAP, you do not have to apply. If you do not regularly receive SNAP, even if you applied last year, you must apply again. Please take advantage of this great opportunity. Use the link, to begin your application
https://yourtexasbenefits.com/Learn/PEBT
. If you need any help, please call the school at (956)971-4344, we are happy to help. Stay safe, we love you! -Ms. T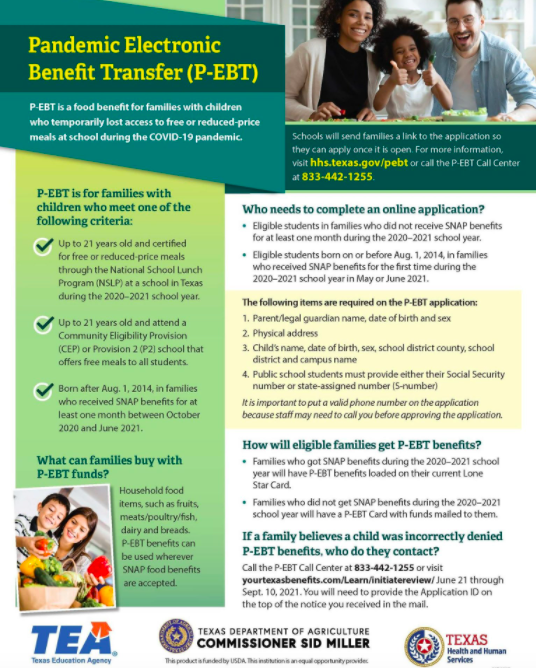 Falcons, McAllen Public Library is starting their summer programs next week! Don't miss out!!! Click on the link for more information! #FieldsInspires #ReadersAreLeaders #SummerVibes #ReadingChallenge @mcallenlibrary
https://mcallenlibrary.net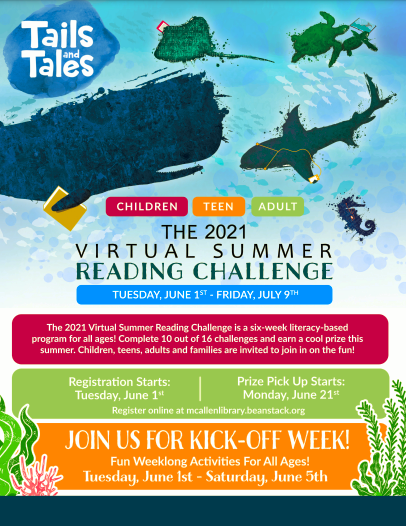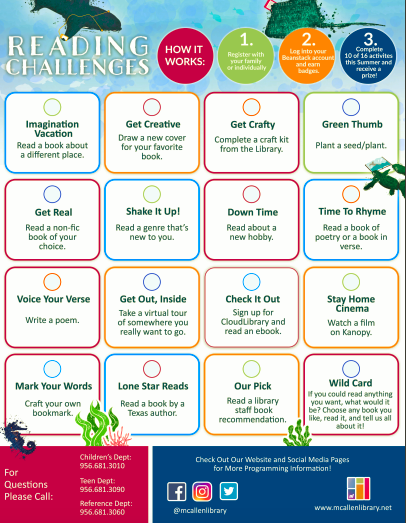 Hello Falcons, what a great year it has been!!! Hope you have a restful and safe summer vacation. Please review the early release information below. #FieldsInspires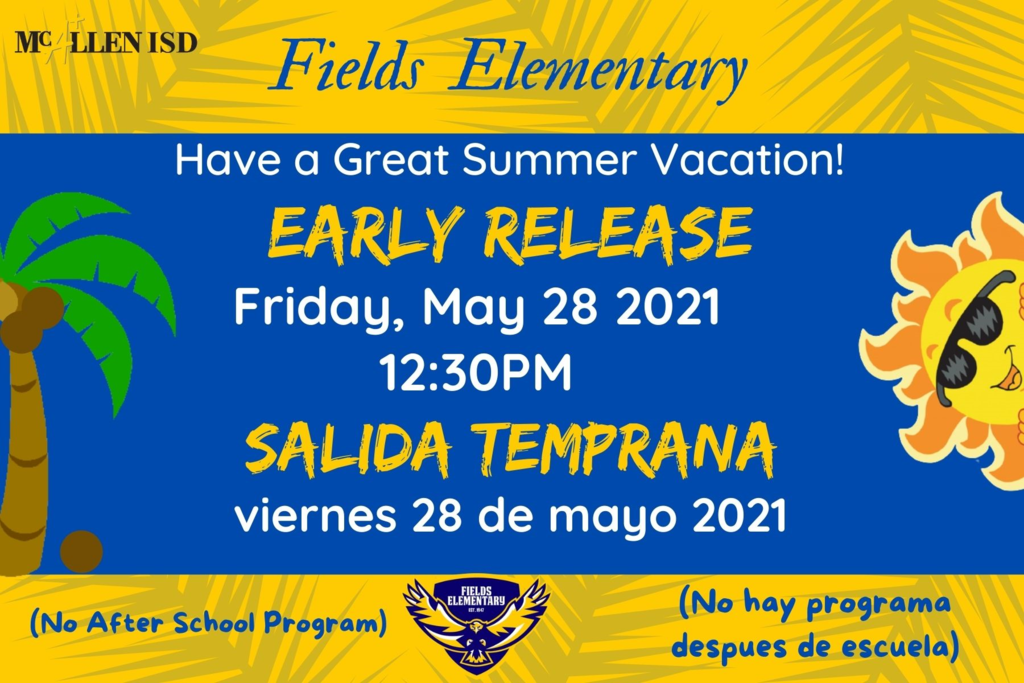 Hello Mighty Falcons! Please take time to view the Award Distribution Pick Up information below. See you there! #FieldsInspires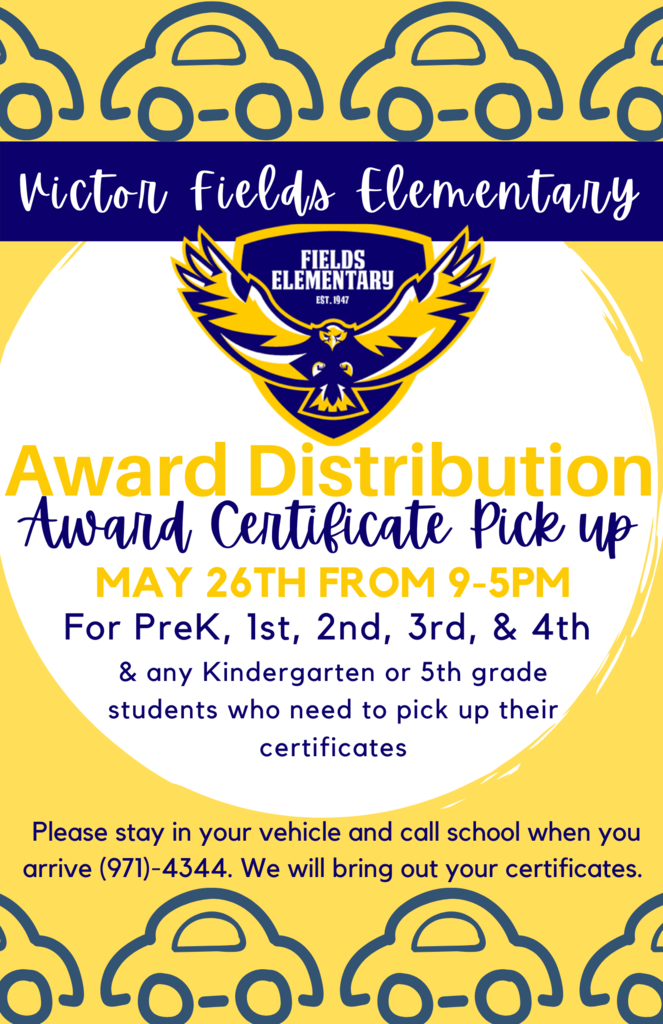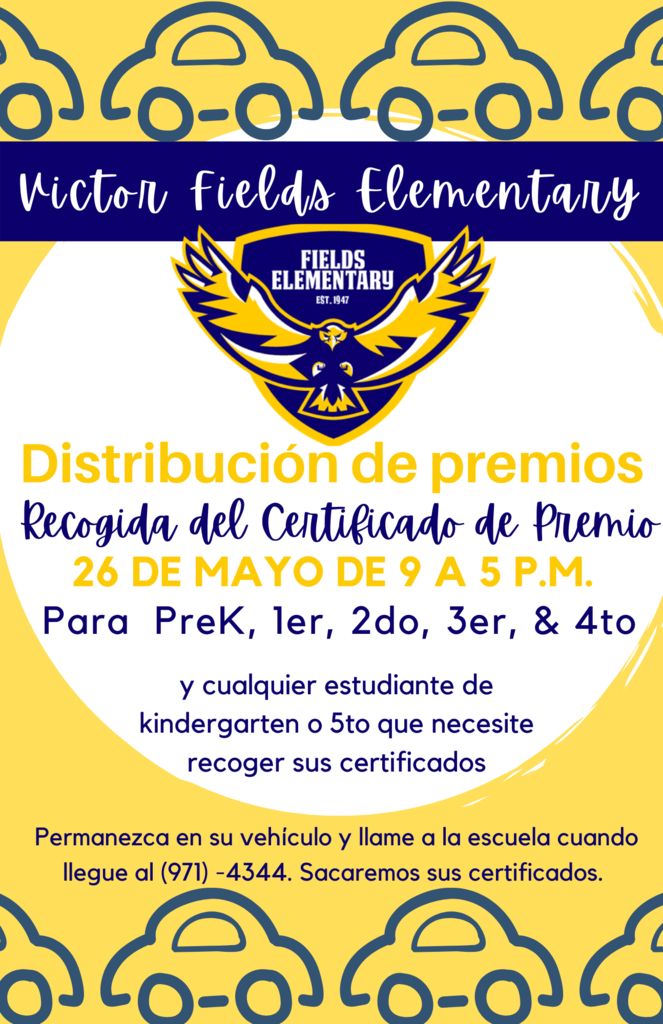 The yearbooks are here, the yearbooks are here!!! If you ordered your 2020-2021 yearbook, pick up will be on Wednesday, May 26th, 2021 from 9 a.m. to 5 p.m.
Aloha Falcons! Please view our updated maps with information about our Kinder & 5th Grade Drive-Thru Party Celebrations! See you there!! #FieldsInspires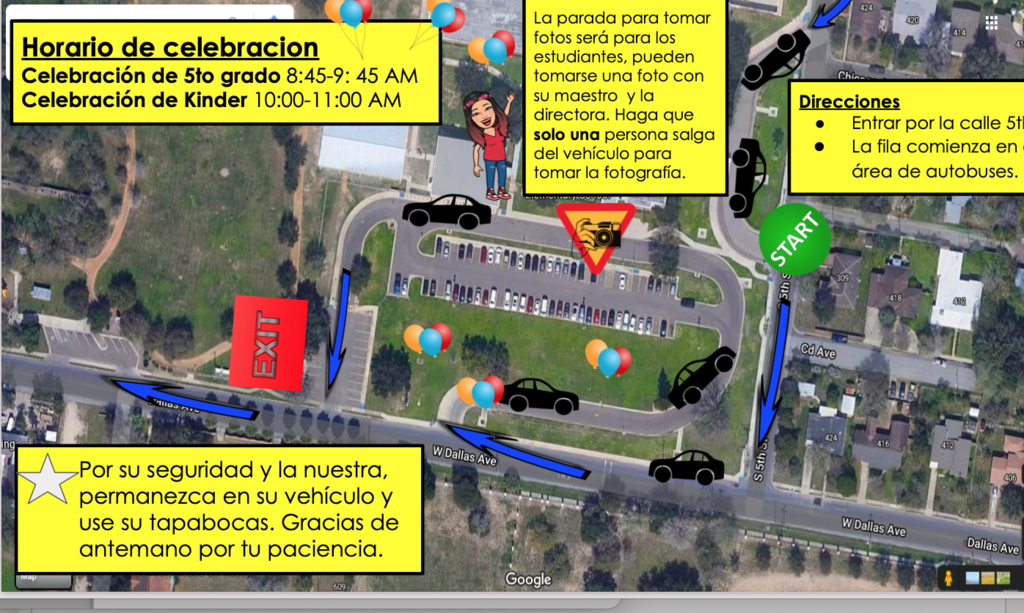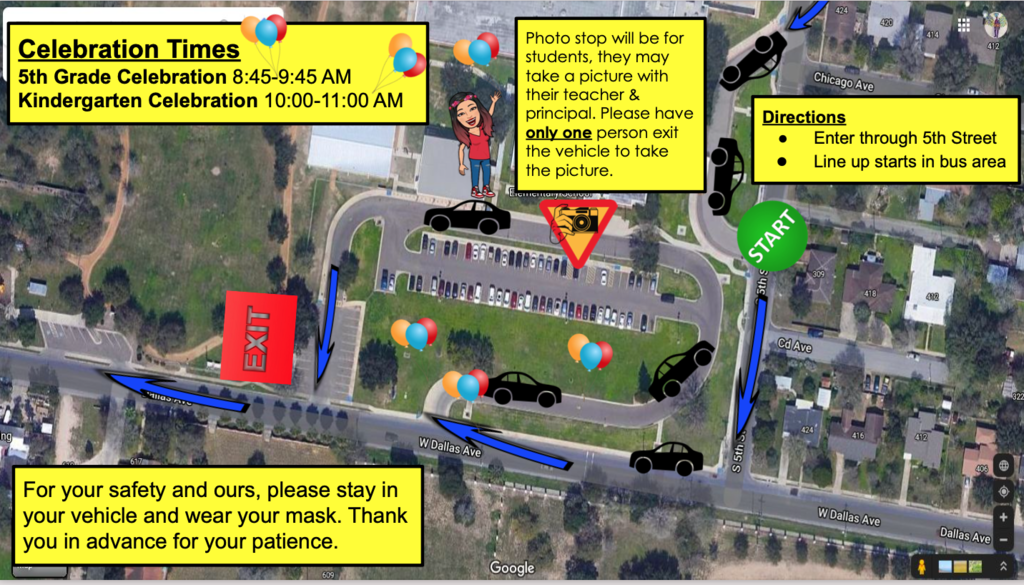 Parents of Kinder & 5th Grade Falcons, here is a map of the Drive-Thru Celebration this Friday! #FieldsInspires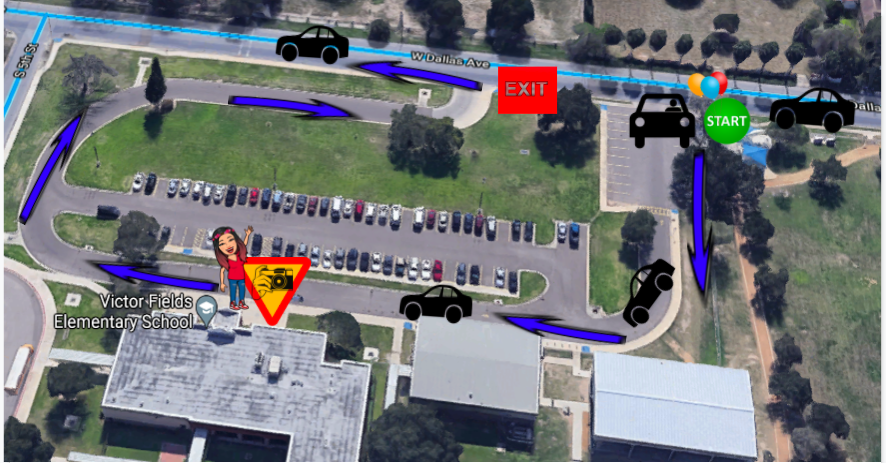 Falcons! Our Virtual Awards Assemblies and Drive-Thru Celebrations for Kinder and 5th Grade are this Friday!!! See Flyer for details...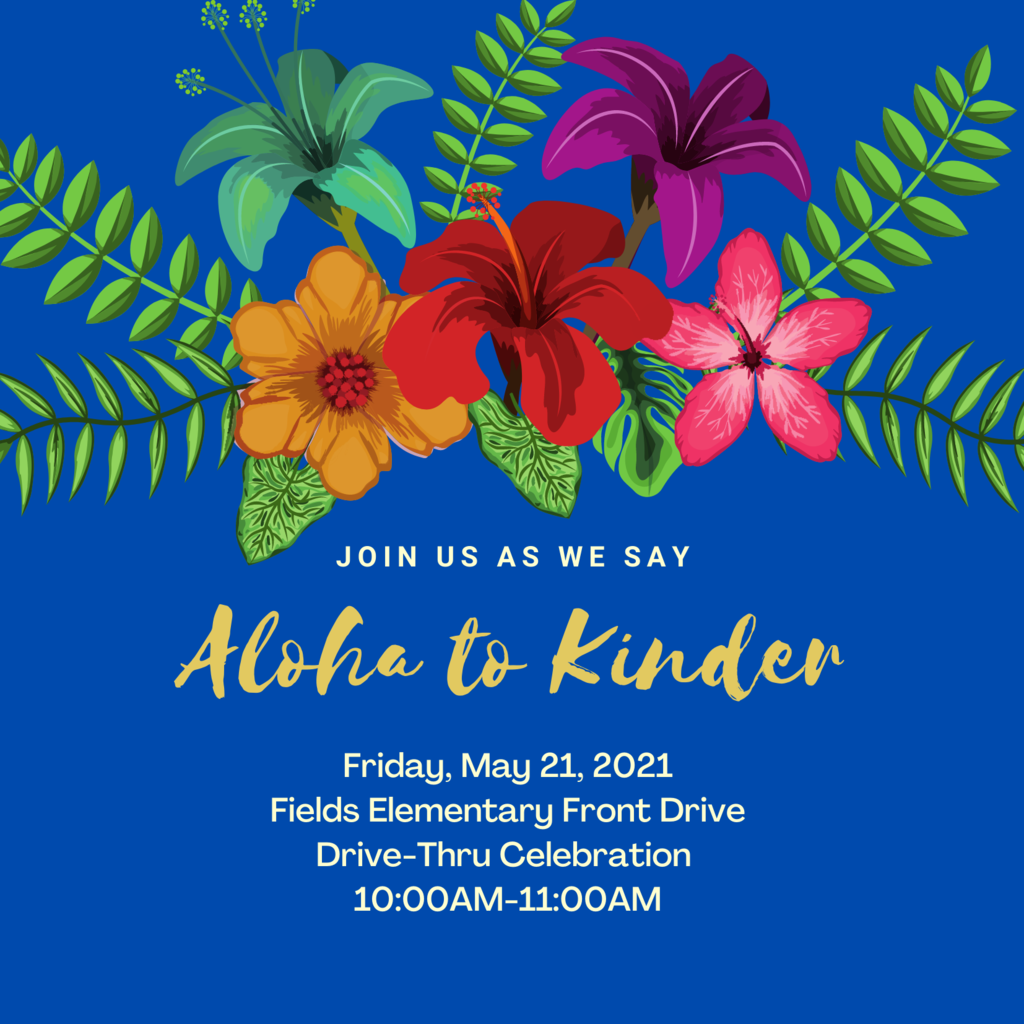 Falcons, it's the end of the year final count down! Stay informed via ClassDojo with dates on our Virtual Awards Assemblies, 5th Grade I Pad Collection Day, & I Pad Repair Drop Off Day! #FieldsInspires #FalconsAreReady #FalconsArePrepared

Falcons, if you have severely damaged I Pads that need repair for the 2021-2022 academic year....please see flyers below for information on drop off day and time. #FieldsInspires #WeAreReady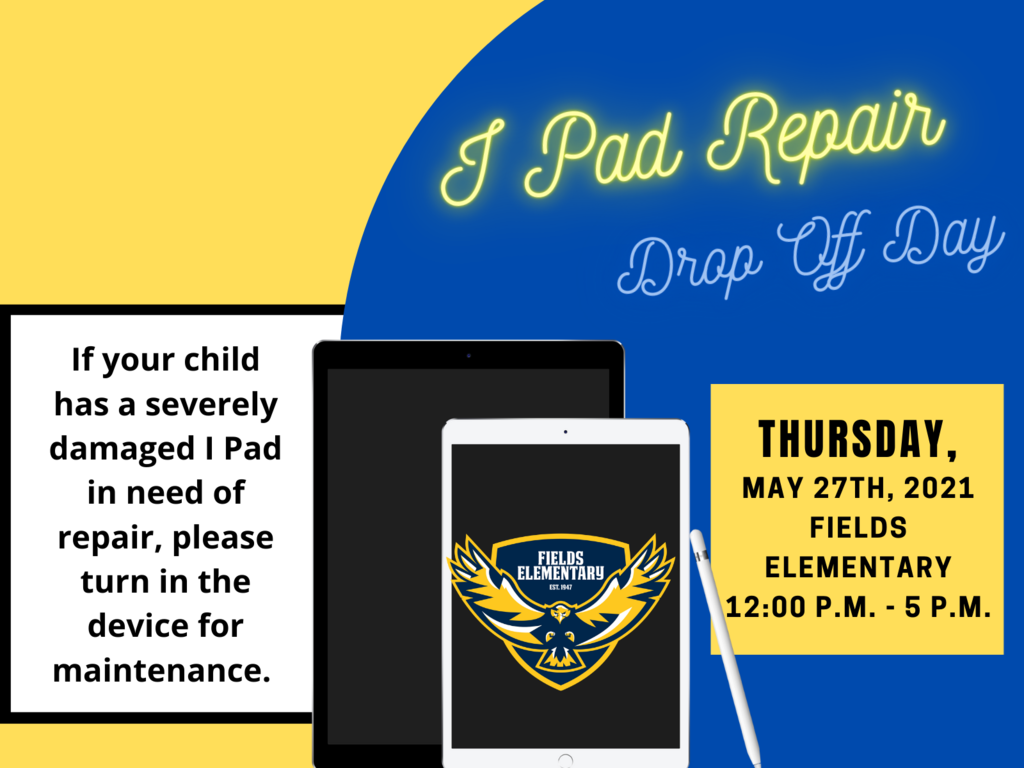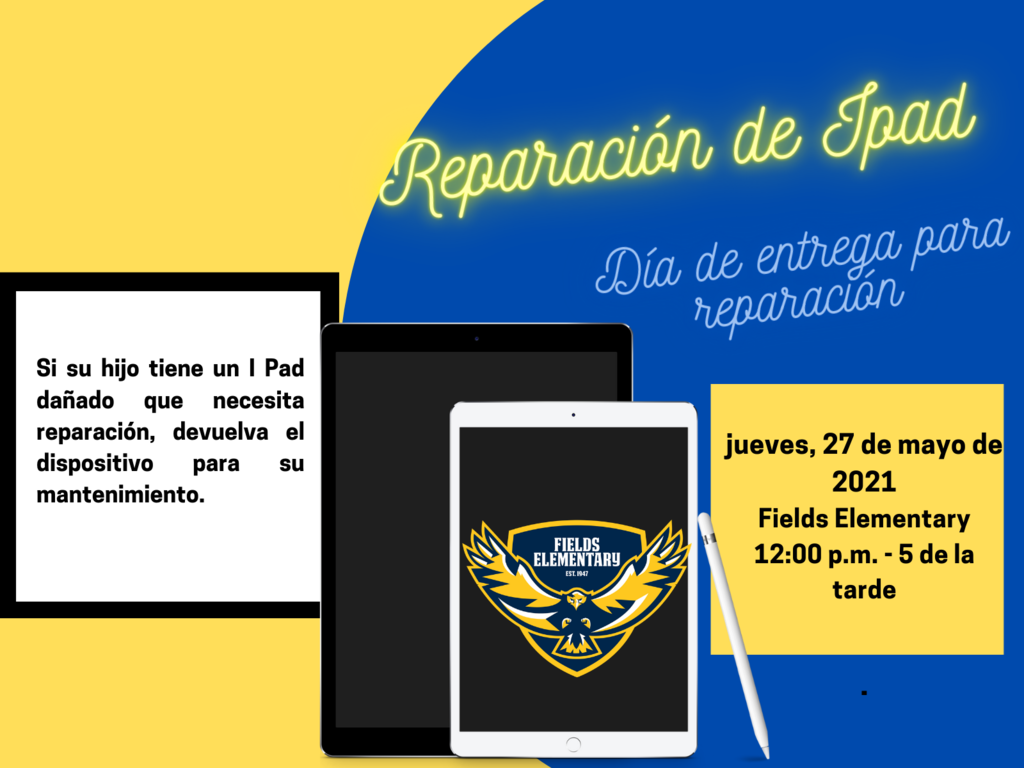 5th Grade Falcons...please review the flyer for end of the year I Pad collection information! #FieldsInspires #MiddleSchoolHereWeCome #OnceAFalconAlwaysAFalcon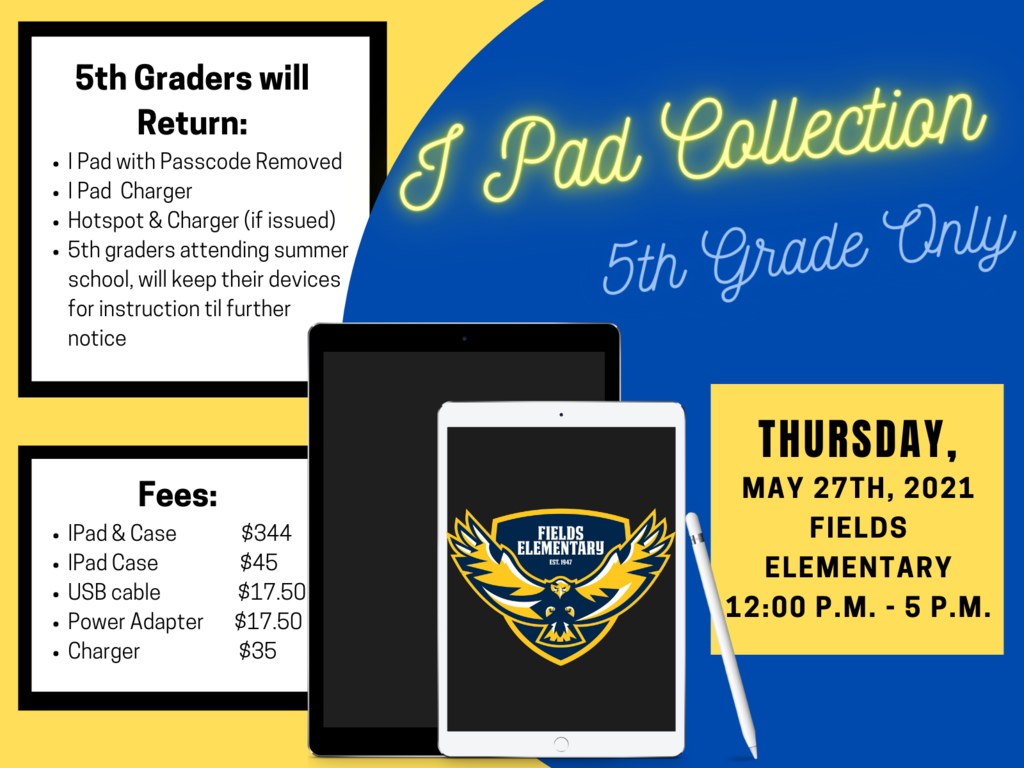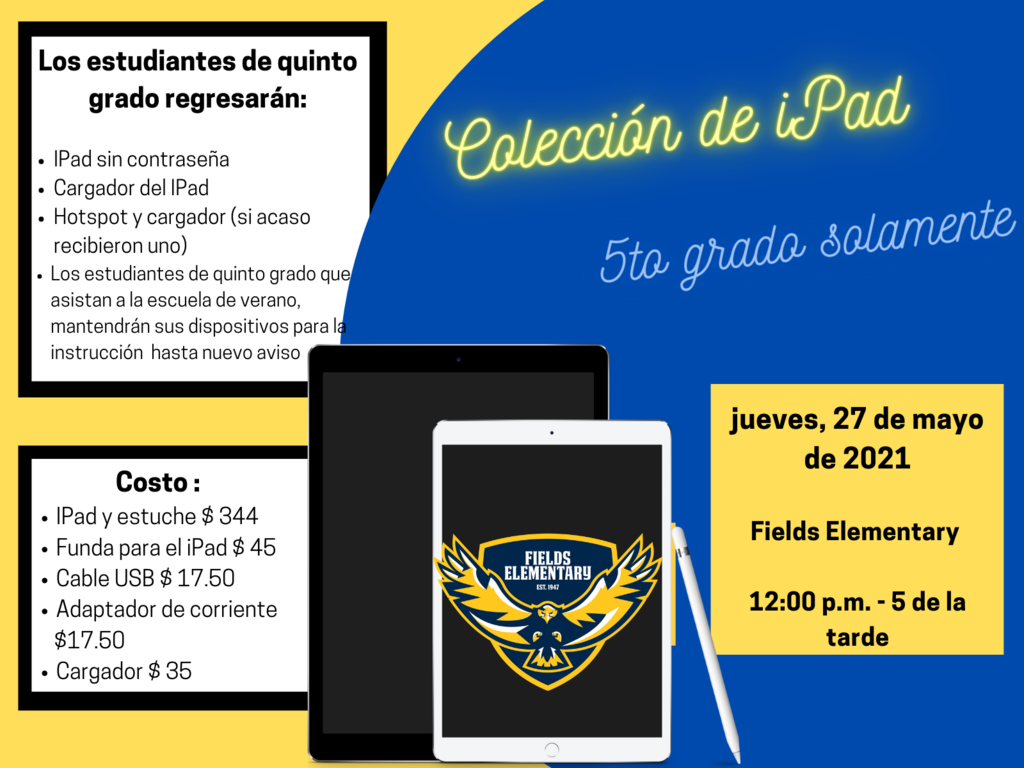 Falcons....READING STAAR test for 3rd-5th graders tomorrow!!! Make sure you rest well, eat a healthy breakfast, and try your very best! You got this!!!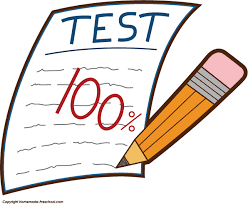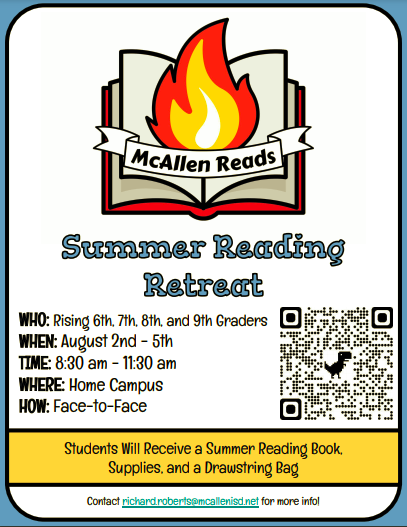 Thank you Mrs. Benavides for a FANTASTIC National P.E. & Sports Week! We love and appreciate all you do to keep our Falcon kiddos happy, healthy, and active. Great coaching changes lives....and you do just that everyday!!!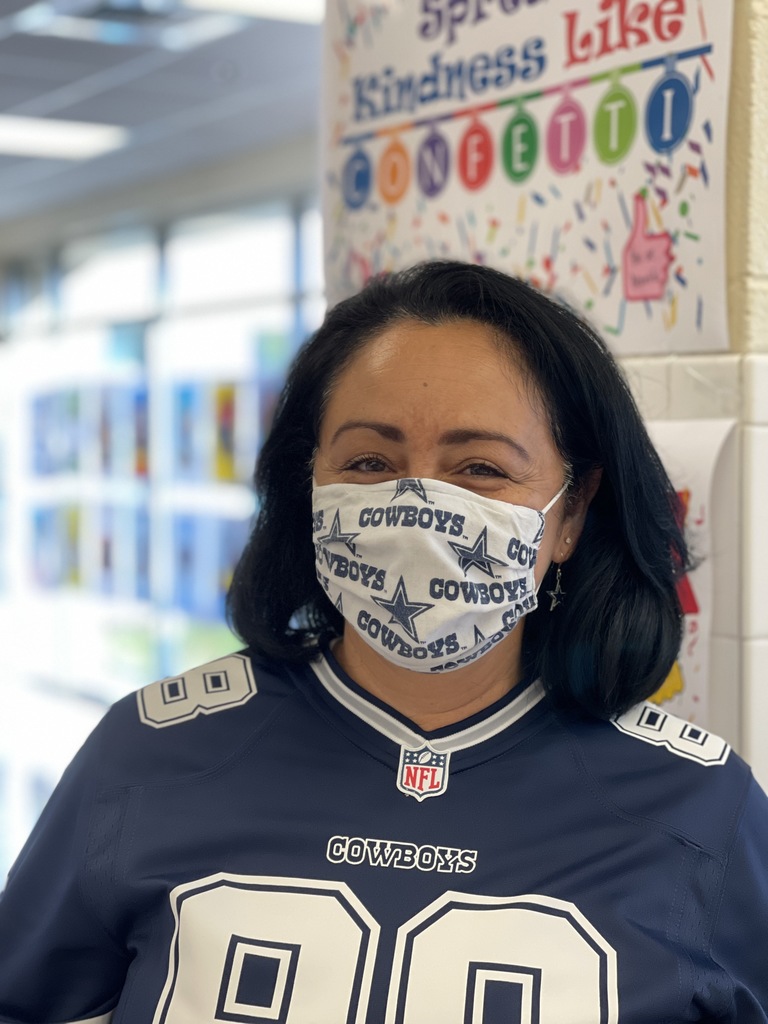 Happy #NationalSchoolNurseWeek ! We love our nurse, Mrs. Maciel! Thank you for carrying our Falcon students, staff, and community through this school year! We appreciate your hard-work, courage, and kind heart! #FieldsInspires #BlessedWithTheBest